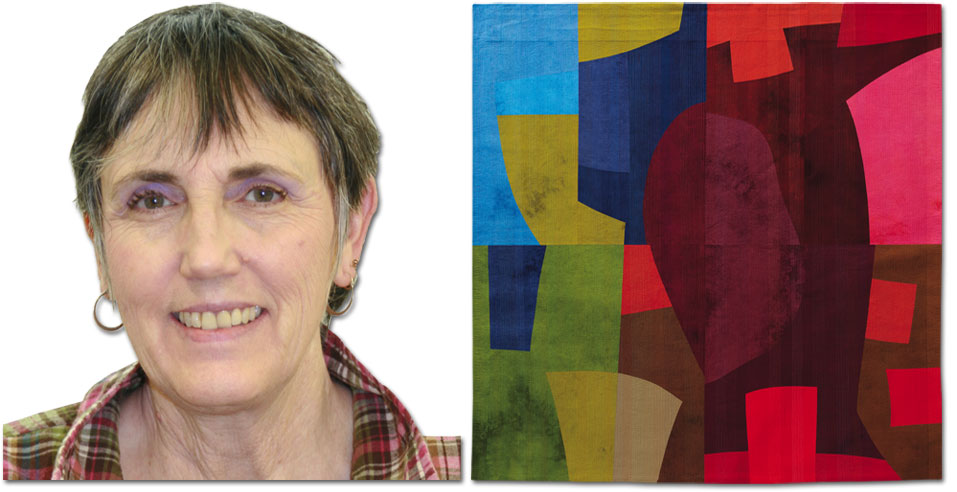 Terry Jarrard-Dimond and her works: Forest Floor © 2012 & NYX © 2013.
Images below: Images from Terry's workshops.


m
TERRY JARRARD-DIMOND
Terry is a textile artist with a background in sculpture and textile design. She has taught all ages from elementary students to graduate students in colleges, universities and workshops across the US. Her work has been exhibited nationally and internationally most recently in Fiberart International 2013, Innovations in Fiber Art VI and Color Improvisations, which toured extensively in Europe.
Terry's work is included in the collections of Coca-Cola International; The Federal Reserve Bank of Charlotte, NC; the State Museum of South Carolina; and The Fine Arts Center of Greenville, SC, as well as private collections. Her work has been included in Art Quilt Elements, Quilts=Art=Quilts, Visions, Form Not Function and Artist As Quiltmaker in addition to solo and small group invitational exhibitions. She has received The Award for Design Excellence twice at Quilts=Art=Quilts at the Schweinfurth Museum of Art, and Best of Show at Form Not Function at the Carneige Museum of Art and History. She is a former recipient of the South Carolina Crafts Fellowship and earned an MFA degree from Clemson University.
> Terry's web site
> Terry's blog



Design Boot Camp 1: Design is the Foundation
• Dates: September 22-26, 2014
• Level: Beginning to advanced
• Zig zag sewing machine: Yes
• Materials fee: $5
• Tuition & Meal plan: $870

> Tuition, meal plan, accommodations & additional information



DESCRIPTION
The elements and principles of design are guidelines utilized by artists to structure their concepts and bring them from the world of imagination into the physical world. These elements and principles are also applied when evaluating work. In this workshop you will explore the key elements and principles of design, what they bring to your work and how they work together to support your concepts. You will explore with exercises using cut paper, sketches, wire, stitching, painting and constructed fabric compositions. Sewing techniques will include piecing and applique. This week will be a mini-semester in design. There will be both individual and group discussions and observation of the work you create. This workshop is suitable for all beginners and intermediate students or anyone who wants to refresh their design skills.