peru

Images above & below: Woman wearing a traditional hat,
charming colonial city of Sucre, weaver working at her loom, preparing yarn for weaving, interesting formations in the Valley of the Moon
6-Day Extension to Bolivia
Bolivia has a population of about 8.5 million and the largest ethnic group is the Quechua with 30% of Bolivia's population. About another 30% are mestizo, or a mix of indigenous and European lineage. 25% of Bolivians are Aymara, about 14% are European descent and less than 1% have African heritage. Over half of the population is full-blooded indigenous and the vast majority has some ethnic connection to the indigenous cultures that lived in the region before the arrival of Europeans. Not as often visited as other countries, Bolivia is the most Indian country in South America, and you'll experience the language (primarily Quechua), the culture, and customs first hand, making it an ideal place to continue our exploration of Andean history and life. This six-day travel program will be an introduction to this fascinating country.
La Paz
La Paz, the capital city, practically touches the sky. Located high above sea level, La Paz sits in a bowl surrounded by the high altiplano. La Paz as it grows climbs the hills resulting in varying elevations from 3000 to 4100 m. Overlooking the city is towering triple-peaked Illimani, always snow covered and majestic. La Paz is the legislative capital of Bolivia, the largest city, while the legal capital, home of the Supreme Court, is in Sucre.
Sucre
The city of Sucre has a rich, varied history and a wealth of historical architecture deserving of the selection as a World Heritage Site by UNESCO. Sucre shares capital city status with La Paz, the legislative and administrative capital. Sucre, a charming colonial city, is often called "the white city," and is an easily walkable city. The older sections, with the white colonial buildings with their distinctive red-tiled roofs and distinctive balconies, offer nooks and crannies to explore. It is a university city, with many cultural attractions, museums, shops, restaurants. Relatively small, Sucre is home to a large indigenous population who maintain their traditional clothing and customs, and sell their crafts and goods available in the markets and fairs.
Potosí
The discovery of ore in silver-rich Cerro Rico (rich hill) by Indian Diego Huallpa in 1544 prompted the foundation of the city of Potosí on April 10th, 1545 at the foot of the hill. Large scale excavation began in the site immediately and the first shipment of silver was sent to Spain. In 1672, a mint was established to coin silver and water reservoirs were built to fulfill the growing population's needs. At that time more than eighty-six churches were built, and the city's population increased to nearly 200,000, making it one of the largest and wealthiest cities in Latin America and in the world.
Tarabuco
An hour or so from Sucre, on the road towards Potosí, lies the market town of Tarabuco. In a country filled with lively, colorful, and character-filled markets, Tarabuco's Sunday market may be one of the best. The mounds of produce and spices rival any other colorful Andean local market. Regional textiles are found on every corner. The striped ponchos and poncho dresses are worn by many, as are the hats by married and single alike. The traditional hats are also noteworthy. The hats of Bolivia differ from region to region and frequently signal marital status. In the case of Tarabuco, a single woman wears a stiff cap of sorts decorated with beads that dangle before the eyes. The traditional weaving, which was in danger of becoming a lost art, has seen a resurgence in recent years, in part because of support from international development organizations. There are several local textile styles. One of the more striking patterns features bands of white, black and purple with zoomorphic and human figures woven into the fabric. The figures tell a story, or often represent a dream or vision of the weaver.
Sorry, tour is full. Please e-mail if you would like to be placed on a wait list.

---

Itinerary
(B = breakfast, L = lunch, D = dinner)
Day 1 | Wednesday, November 17, 2010 (B, L, D) La Paz
Travel to La Paz from Puno by bus, stop at Tiahuanaco ruins, arrive in La Paz in late afternoon/early evening
Overnight in La Paz
Day 2 | Thursday, November 18, 2010 (B) La Paz
Breakfast in the hotel
Group lunch
Visits to Museum of Enthography with English speaking curator, visit to the nearby witches' market, meet local well-known painter, see other sights in La Paz, including famous plazas
Overnight in La Paz
Day 3 | Friday, November 19, 2010 (B, D) Sucre
Breakfast in the hotel
Fly around mid-day to Sucre (the "White City of the Americas") and soak up its cultural charms, afternoon private tour by English-speaking curator of the Textile Museum, see other sights as time permits
Overnight in Sucre
Day 4 | Saturday, November 20, 2010 (B, L) Sucre
Breakfast in the hotel
Travel through mountains to Potosi, tour famous 400-year-old mine, visit the original mint for Bolivia
Overnight in Sucre
Day 5 | Sunday, November 21, 2010 (B, L) Sucre
Breakfast in the hotel
Tarabuco regional textile market, followed with a visit to the village of Candelaria, home of some of the best textiles artists in the area
Overnight in Sucre
Day 6 | Monday, November 22, 2010 (B, D) La Paz
Day 7 | Tuesday, November 23, 2010
Early flight home from La Paz
---

Fees
Sorry, tour is full. Please e-mail if you would like to be placed on a wait list.
• TRAVEL FEE: $1888 (twin) U.S. Funds Only
• Note: Additional $290 for single supplement
• The travel fee INCLUDES ONE (1) ROUND-TRIP DOMESTIC FLIGHT within Bolivia. The domestic flight will be booked after May 1, 2010, when all deposits are due. There will be no refunds on deposits after May 1.
• This travel fee DOES NOT include round-trip airfare to Bolivia/Peru...please view below.
• Sorry, credit cards are not accepted

Travel fee includes:
• All accommodations
• All meals as indicated
• All tips for meals, baggage, bus driver and bellmen
• Land transportation
• 1 round-trip domestic flight within Bolivia (LaPaz - Sucre)
• Admission fees
• Professional tour guide plus specialist guides at sites

Travel fee does NOT include:
• Roundtrip airfare to Bolivia/Peru from the United States/other countries
• Departure tax and travel insurance
• Meals not included on the itinerary
• Personal expenses
• Visa to enter Bolivia (currently, it is $135 and is good for 5 years)

Deadlines
Deadline for reservation & deposit of $300 (per person): May 1, 2010
• Deposit must be made by check.
• $100 is non-refundable unless trip is cancelled.
• $200 is refundable up to May 1, 2010.
• None of the deposit is refundable after May 1, 2010, unless trip is cancelled.

Deadline for remaining payment of $1588: July 1, 2010
(add $290 for single supplement)
• Final payment is non-refundable, unless trip is cancelled.

All payments must be in US FUNDS ONLY! No credit cards


Questions? Please click here to send an e-mail


Please complete the form below & mail with your deposit.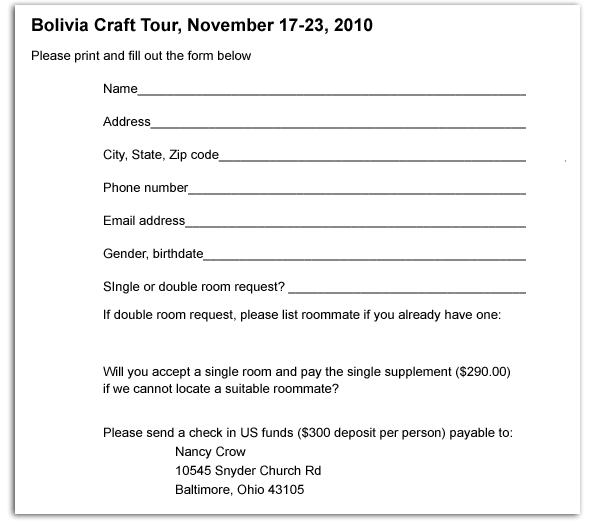 Flight Information
All participants are responsible for making their own flight travel plans. Those who go on the Bolivia extension will fly into Lima and out of La Paz, since we will go by land transportation from Peru to Bolivia. At this point, we believe American Airlines is the only carrier who will allow this. Please check with your own travel agent or directly with American Airlines. We are not arranging for a group flight since people may be coming from all over the United States/Canada/other countries and many use frequent flyer miles. We can assist you in coordinating your flights. Participants should take the least expensive and easiest flights.
Travel insurance is recommended.
A special visa is required to enter Bolivia (currently, it is $135 and is good for 5 years). Information will be sent once registration and deposit are received.