| | |
| --- | --- |
| ___ | |
| | Mapula embroidery project artists |
his three week journey through the northern and eastern areas of South Africa offers a remarkable selection of arts and creativity, wild game parks, stunning scenery, multi-cultural diversity, fine cuisine and great shopping. Meet the local people in tribal villages, vibrant townships such as Soweto and cities (Johannesburg and Durban). We'll be travelling in the provinces of Limpopo, Mpumalanga, KwaZulu-Natal and Gauteng.
Reviews from previous tour:

A life changing & just outstanding trip!!! Thank you!

I liked meeting the people and getting into the villages and "out of the way" places.
So many great moments!

This trip was a dream come true. I didn't know anyone and found all to be so friendly and warm. I enjoyed every minute!
Experience the African wilderness in a private game reserve that is part of the greater Kruger National Park with its abundant wildlife, birds and plants. Savor the thrill of viewing The Big Five in open safari vehicles with skilled rangers. Visit the impressive UNESCO World Heritage sites of iSimangaliso Wetland Park and the Cradle of Humankind. Many of the places we visit will have specialist site guides who offer us enriching educational experiences. A registered South African tour guide also accompanies us for the entire tour in a luxury coach.
In the rural areas we travel off the beaten track to experience the customs of amongst others, the Venda, Zulu and Tsonga tribes. Observe traditional crafts like basket weaving, pottery and beading that have been handed down through families for generations. Meet the woodcarvers of Limpopo and the Mapula and Kaross embroidery groups who have received wide praise and honours for their work. Wander around open markets and enjoy the music, the people, African fabrics and much more.
Meet artists in their studios and visit self-help projects creating innovative textiles, jewelry and other amazing articles which often combine traditional skills with contemporary style. Tour fascinating galleries and museums, some privately owned, with remarkable collections.
Fantastic baobab trees, tranquil bushveld, savannah grassland, the Indian Ocean coastline and scenic forest valleys provide some of the spectacular natural beauty on our journey. We'll encounter diverse architectural styles such as colonial homesteads in beautiful cultivated gardens, thatched rondavels and colorful township homes. We will be staying in both the countryside and urban areas in carefully chosen hotels and lodges that often have a special quality.
Learn about the history and political developments that have shaped South Africa from the San-Bushman to the early colonial settlers and the miracle of the Nelson Mandela era and the transition to democracy.
Join us for a memorable journey in South Africa! Sorry, tour is full!
• If you would like to be placed on a mailing list for information about upcoming tours, please > email your contact information.


---
Itinerary
| | |
| --- | --- |
| | |
| | Ardmore ceramic studios in KwaZulu-Natal |
Note: the itinerary below is a brief overview of the tour. A detailed itinerary along with accommodation information is mailed once registration & deposit are received.
(B = breakfast, L = lunch, D = dinner)
Day 1 | Sunday, August 4, 2013 (D) Johannesburg, Gauteng
Day 2 | Monday, August 5, 2013 (B, L, D) Johannesburg, Gauteng
Today we travel into the countryside to the Cradle of Humankind, a World Heritage Site. Our specialist guide will introduce us to fascinating ancient evidence of evolution and past cultures. See archaeological excavations and dolomite caves containing fossils from millions of years ago. Enjoy lunch surrounded by panoramic views of the savannah bushveld. In the afternoon we'll visit some of the best galleries for contemporary and tribal arts, crafts and artifacts from across the African continent.
Day 3 | Tuesday, August 6, 2013 (B, L) Johannesburg, Gauteng
A coach tour through cosmopolitan Joburg, as it's known, introduces us to this economic hub of the southern African region. It's also a city with 6 million trees! Experience the contrasts of quiet, leafy suburbs with shopping malls to the metropolis of Soweto (an acronym for South Western Township). Visit the Apartheid Museum, combining a superb use of design, space and landscape to illustrate the rise and fall of apartheid in South Africa. Our next stop is WAM, the new Wits Art Museum, home to an extraordinary collection of over 9,000 contemporary and historical artworks from South Africa, West and Central Africa.
Day 4 | Wednesday, August 7, 2013 (B, L, D) Johannesburg, Irene, Gauteng
This morning we visit Arts on Main in the Maboneng Precinct in the regenerating east city, a cultural hub for Johannesburg's creative community. Wander around art galleries, artist studios, retail spaces and enjoy the commissioned public artworks in this area. We continue to the suburban studio of an artist / designer whose lively and colorful textile prints involve drawing, linocuts, silkscreen printing and hand stitching.
Day 5 | Thursday, August 8, 2013 (B, L, D) Winterveld, Irene, Gauteng
Today we visit the highly successful Mapula embroidery project in the Winterveld outside Pretoria. This is an important income generating project for economically disadvantaged women in this community. Meet the Mapula women and see their remarkable, innovative cloths that tell stories of their personal, political and social experiences.  Hear their stories, see demonstrations of work and visit their homes.
| | |
| --- | --- |
| | |
| | Rondavel in stunning South African landscape & wood carver using traditional techniques |
Limpopo arts and crafts
Limpopo Province is known for its arts, crafts and design with acclaimed artists and craftspeople, traditional storytellers, dancers and singers to be found in many traditional Shangaan / Tsonga and Venda villages. In the next two days we'll visit some of these people in their studios and workshops as time and weather permits.
Day 6 | Friday, August 9, 2013 (B, L, D) Soutpansberg, Limpopo Public holiday
Drive to Limpopo Province and the scenic Soutpansberg. Spend the afternoon at a Fair Trade in Tourism establishment that promotes heritage through art and crafts. Learn about local cultures, visit the Craft Art shop, Design Studio and Dancing Fish Gallery including a permanent exhibition featuring Venda, Tsonga and Northern Sotho culture.
Day 7 | Saturday, August 10, 2013 (B, L, D) Makhado, Elim, Giyani, Limpopo
Visit various artists and craftspeople in their workshops as time and weather permits in Makhado, Elim and Giyani - sculptor Noria Mabasa, woodcarver and drum-maker Thomas Kubayi and painted wood sculptures by Johannes and Collen Maswanganyi. At the Pottery Village, the 'pottery street' displays traditional and contemporary pottery. Women at the textile projects Twananani Textiles and Mtiti Magic use stitching, printing, dyeing, beadwork and embroidery to create decor and fashion products including the traditional nceka. The projects provide employment for women in a region of high unemployment. A visit to the open air markets will give further insight into the culture and daily life in this region as will the traditional dancers and musicians in the Shangaan/Tsonga and Venda villages.  
| | |
| --- | --- |
| | |
| | Open safari vehicle drive at private game reserve |
| | - |
Kruger Park
We'll be spending 3 days in a private game reserve that is part of the Greater Kruger Park. It offers an outstanding wilderness experience with a great diversity of fauna and flora. Enjoy the thrill of game drives in open safari vehicles with skilled rangers, viewing The Big Five (elephant, rhino, lion, leopard, buffalo) and many other animals including giraffe and zebra. A night drive gives an opportunity to spot nocturnal animals and a bush walk is a wonderful way to experience the animals and vegetation from another point of view. There will be abundant photo opportunities and also time to relax, take leisurely walks in the camp and enjoy the many trees, plants and birds with a well-informed guide.

Day 8 | Sunday, August 11, 2013 (B, L, D)
Day 9 | Monday, August 12, 2013 (B, L, D)
Day 10 | Tuesday, August 13, 2013 (B, L, D)

Day 11 | Wednesday, August 14, 2013 (B, L, D) Magoebaskloof, Limpopo
Drive to the secluded Magoebaskloof mountains, a lush landscape of dramatic scenery with forests, gardens and tropical fruits. Visit an amazing textile venture specializing in unique hand-crafted handbags, skirts, flags, cushion covers and wall-panels. Funky, eclectic designs merge with a collage of fine textiles, embroidery and embellishments.
Day 12 | Thursday, August 15, 2013 (B, L, D) Letsitele, Limpopo
Our day will be spent at a tranquil yet dynamic haven of creativity located on a citrus farm. Our destination is Kaross, a hand embroidery enterprise founded in 1989 with five Shangaan embroiders, by artist Irma van Rooyen as a job creation and upliftment initiative. Today this project has over 1000 participants from the local Letsitele / Giyani communities. Kaross produces embroidered artworks, wall-hangings and collector's items as well as homeware and fashion items and is known for its excellent quality and design. Enjoy the day surrounded by the people of Kaross and their beautiful stitched textures and colors
Day 13 | Friday, August 16, 2013 (B, L) Panorama Route, White River, Mpumalanga
Our journey today is one through spectacular geological scenery that gives the area its name, the Panorama Route, leading through the rugged northern Drakensberg mountain range. The names of the viewpoints give an idea of the breathtaking views: God's Window, Wonder View, Three Rondavels, and the Blyde River Canyon (the Motlatse), the third deepest canyon in the world. We'll stop at the small town of Graskop which has a great collection of galleries and shops with fascinating African arts and crafts.
Day 14 | Saturday, August 17, 2013 (B, L) White River, Mpumalanga
| | |
| --- | --- |
| | |
| | Zulu baskets |
In a farming area close to White River is The Artists' Press, where some of South Africa's finest artists collaborate with master printer Mark Attwood to produce original prints of the highest quality. Artist's books are also published and a variety of print processes are used (lithography, letterpress, intaglio, mono-printing and relief printing). We'll also meet artist Tamar Mason who combines her community project work with large commissions. Tamar works in various media including large embroidered textile pieces and clay sculpture. Our next stop is the ceramic studios of the Bosch family. A variety of contemporary ceramics are produced, both functional ware and sculptural forms, often decorated with images from the natural world depicted with joyful pattern, line and color. 
Day 15 | Sunday, August 18, 2013 (B, L, D) Mkuze, KwaZulu-Natal
Day 16 | Monday, August 19, 2013 (B, L, D) Hlabisa, Mtubatuba, KwaZulu-Natal
| | |
| --- | --- |
| | |
| | Textile artist |
After breakfast our destination is a rural town to meet the highly accomplished Zulu basket makers who live and work here. See the raw materials, the techniques and the skills that are used to make the beautiful woven baskets that are admired around the world. In the afternoon we visit the iSimangaliso Wetland Park made up of pristine natural ecosystems, with great biodiversity and outstanding natural beauty. The Zulu name means "marvel' and indicates why it's a UNESCO World Heritage Site. 
Day 17 | Tuesday, August 20, 2013 (B, L, D) Rorke's Drift, KwaZulu-Natal
As we proceed along the subtropical Zululand coast we stop at Eshowe and the unique Vukani Zulu Cultural Museum for a guided tour. This purpose-designed building houses a remarkable historical collection of traditional Zulu baskets as well as ceramics. There will also be an opportunity to buy items at the adjoining shop. We continue to our accommodation at Rorkes Drift.
Day 18 | Wednesday, August 21, 2013 (B, L, D) Rorke's Drift, KwaZulu-Natal
In Rorke's Drift we visit the ELC Art and Craft Centre, established in 1962, which holds a significant place in South African visual art history. The characteristic "Rorke's Drift style" is continued today by a community of artists who produce wonderful wool carpets and tapestries, hand printed fabrics, sewn textile products and ceramics. Free afternoon - battlefield tours are available to your own account.
Day 19 | Thursday, August 22, 2013 (B, L, D) Durban, KwaZulu-Natal
On departure from our hotel we drive through scenic rural areas to the world-renowned Ardmore Ceramic Studio in the heart of the KwaZulu-Natal Midlands at Caversham. Meet the artists and admire their intricately detailed and exuberant work. Our final destination today is the city of Durban on the coast of the warm Indian Ocean.
Day 20 | Friday, August 23, 2013 (B, L) Durban, KwaZulu-Natal
Visit the vibrant Victoria Street Market in downtown Durban to explore the Indian spices, textiles and handcrafts. Either explore the market on your own or take a guided walking tour with The Markets of Warwick through 9 distinct markets such as the Victoria Street Market, the Bead Market, and Herb Market. Hundreds of vendors sell a great variety of products including traditional medicine, beadwork, food, music and fabrics. Afterwards we'll visit a fascinating museum in a restored Victorian national monument. A guided tour takes us through this private collection of traditional and transitional art, crafts and artefacts from different regions and cultures of Southern Africa. Our next stop is a gallery which has a fine selection of local baskets, textiles, beadwork, jewelry, wood carvings and art-prints.
Day 21 | Saturday, August 24, 2013 (B, L, D) Durban, KwaZulu-Natal
Explore a unique lodge on the edge of a gorge overlooking a nature reserve. This is the vision of a Durban artist who has incorporated his collection of Zulu art and crafts as well as the work of other artists, into the elaborate décor and architecture. We'll also visit an inspiring AIDS Centre that is a multi-faceted project addressing the impact of the devastating HIV/AIDS pandemic in practical, uplifting and holistic ways and there is fabulous beaded jewelry to buy. The afternoon is free for you to do as you wish. Tonight our special Farewell Dinner together will celebrate our wonderful South African adventure.
Day 22 | Sunday, August 25, 2013
• Note: This itinerary is carefully prepared many months ahead of the actual trip. There may be some slight changes in the itinerary to take advantage of new opportunities.
Several of the hotels/lodges we stay at have a wellness center/spa where treatments are available by appointment.
• South Africa's infrastructure is excellent. Roads are in good condition and hotels are world class. The water is safe to drink and the food is superb! The exchange rate is favorable for U.S. dollars. ATM machines are widely available.
---

Coordinators
Nancy Crow
Nancy is an artist who has been creating contemporary quilts for over 29 years and maintains a large studio on her farm east of Columbus, Ohio. Her work has appeared on the covers of two of Maya Angelou's books and is in the collections of the Museum of Arts & Design, Smithsonian American Art Museum and The Museum of American Folk Art. She teaches worldwide and offers in-depth workshops on her farm in a recently renovated 1850s timber frame barn. Nancy was named a Fellow of the American Craft Council.
Odette Tolksdorf
Odette has a long abiding passion for arts and crafts and the people who create them and is enthusiastic about promoting the vibrant work being made in South Africa today. Her childhood was spent in Australia and she has lived in Namibia and in four of South Africa's provinces. Odette now lives in Durban and has travelled widely in South Africa and organized tours focusing on arts, crafts and culture. She is a graduate in graphic design and has been making art quilts and teaching for over 20 years, which has taken her to many parts of southern Africa and other parts of the world including several visits to the USA. Odette's web site
Jurgen Tolksdorf
Jurgen is a keen bird-watcher, photographer, woodworker, nature-lover and philosopher. He grew up in Germany and Namibia and has travelled in many parts of southern Africa learning about the landscape, animals, plants and people of each place he visits. Jurgen came to Durban in 1982 to lecture in Optometry at the University of Durban-Westville. He taught there for 9 years before returning to private practice which he continues today on a part-time basis.
Nathaniel Stitzlein
Nathaniel is an artist who works with Nancy Crow on coordinating art trips to France, Mexico, South Africa, Peru, Bolivia and Guatemala. They also work together to produce art workshops at the Crow Timber Frame Barn. Prior to organizing tours and classes, he was an admissions counselor for The Ohio State University. In addition, he studied ceramics in South Africa for a year and is a free-lance graphic designer. Nathaniel's web site

---


Sorry, tour is full!
• If you would like to be placed on a mailing list for information about upcoming tours, please > email your contact information.
Fees
• TRAVEL FEE: $7,285 (twin) U.S. Funds Only
• Note: Additional $1,600 for single supplement
• The travel fee does not include airfare, etc. - please view below
• Sorry, credit cards are not accepted
• Prices are subject to change due to unpredictable dollar/rand exchange rates, however every effort will be made to keep to the published prices.
Travel fee includes:
• All accommodations (21 nights)
• All meals as indicated in itinerary (all breakfasts except for arrival day, all lunches except for arrival & departure days, 17 dinners)
• All tips for meals, baggage, and bellmen
• Land transportation in luxury air-conditioned coaches
• Daily bottled water on coach
• Game viewing activities in safari vehicles
• Admission fees
• Professional tour guide plus specialist site guides

This travel fee does NOT include:
• Round-trip airfare to South Africa
• Airfare in South Africa
• Departure tax and travel insurance
• Meals not included as indicated in itinerary
• Tip for bus driver & professional tour guide
• Personal expenses

Deadlines
Deadline for reservation and deposit of $1500 (per person): As soon as possible!
• Deposit must be made by check.
• Deposit is non-refundable unless trip is cancelled by the tour coordinators.

Deadline for remaining payment of $5785: As soon as possible!
(add $1,600 for single supplement)
• Final payment is non-refundable unless trip is cancelled by the tour coordinators.

All payments must be in US FUNDS ONLY! No credit cards


Please complete the form below & mail with your deposit.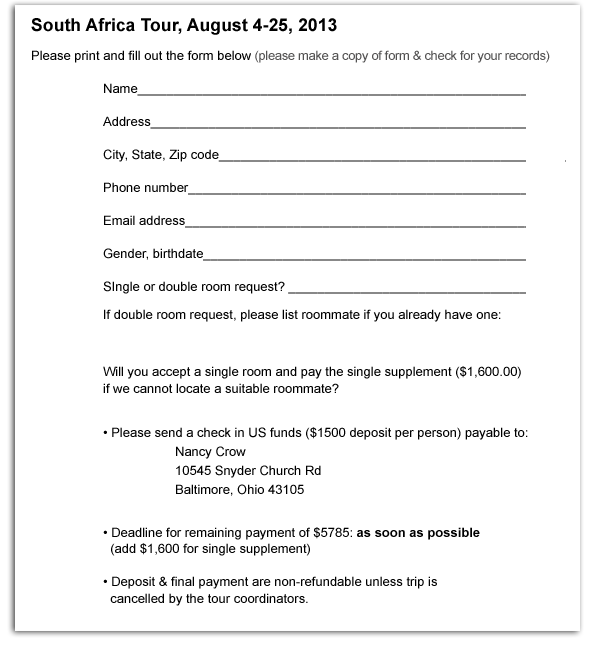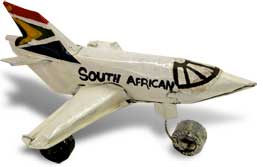 Flight Information
All participants are responsible for making their own flight travel plans. We are not arranging for a group flight since people are coming from all over the United States/Canada/other countries and many use frequent flyer miles. We can assist you in coordinating your flights. Participants should take the least expensive and easiest flights.
Travel insurance is recommended.
No special visas are required, but a valid passport is necessary.


Additional Information
We will send information about weather, clothing recommendations, etc.
Questions? Please click here to send an e-mail