| | |
| --- | --- |
| | "If you're serious about art you simply can't go wrong with classes at the Crow Timber Barn." |
"If you're serious about art you simply can't go wrong with classes at the Crow Timber Barn. Nancy Crow is an amazing artist and a superb teacher. Be prepared to work, to learn, to tap into your artistic potential - and to have a fabulous time. You can look forward to the camaraderie of like-minded students, delicious meals, and a stunning venue. I've taken three classes so far. My art is completely transformed. I can't wait for what I'll discover next when I return."
- Dale Tomlinson
"Nancy's workshop was incredibly challenging, consuming, and succeeded in cracking me open to pursue my work with a newfound seriousness and purpose. Nancy not only is serious about teaching the principles of art and how to apply them to your art, but is also serious about challenging you to do your best. I can't wait to take another class from her at the wonderful Crow Barn."
- Ann Edelman
"I have taken a lot of art classes in North America over the last 20 years and I believe Nancy and her team have created something unique and powerful at the Crow Timber Frame Barn. The environment 'oozes' with creative spirit – you feel it and see it everywhere and it hits you as soon as you enter the property. The instructors are outstanding and the course content and discussions with other artists are always meaningful and challenging. Each visit to the Barn has provided me with enough creative stimulation to continue producing at a deeper level until my next annual visit. If you are serious about being an artist and have not yet taken a class at the Crow Timber Frame Barn, I highly recommend it. The experience will be well worth any effort it takes to get there. "
- Jayne Willoughby Scott
| | |
| --- | --- |
| | "The first time I walked into the wet studio at the Crow Barn, I thought perhaps I'd died and gone to dyeing heaven. I honestly cannot envision a more suitable place for teaching and learning." |
"The first time I walked into the wet studio at the Barn, I thought perhaps I'd died and gone to dyeing heaven. I honestly cannot envision a more suitable place for teaching and learning. It is simply THE best place I have experienced for teaching what I teach. When you add on the spacious design (dry) studio, you can ask for nothing more.
Spring or fall, the farm is gorgeous. It is a privilege to be there. Margaret's food has rightly become the stuff of legend on the grapevine, and John and Nathaniel are there to answer all practical needs. Need wood or PVC pipe cut? See the men. The women would do it, but they are all really busy."
- Jan Myers-Newbury
"I go to the barn to focus on my art making without my usual distractions, like my work schedule, phone calls, emails, shopping for food and dinner preparation, etc. The experience affords me the opportunity to create in an open environment where I am stimulated and excited by a wonderful teacher and artist, Nancy Crow, who challenges me in ways that I can not anticipate. The environment fosters creativity and a community of artists who can share ideas and learn from one another. I have learned a great deal about being an artist from the example provided by Nancy and the others I have met there. It is a very special and fun place to be. I consider it vital to my growth as an artist."
- Leslie Riley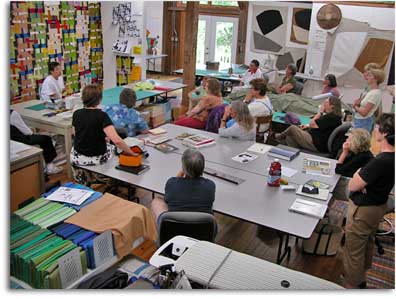 | | |
| --- | --- |
| | "The Crow Timber Barn is a top notch creative environment with astounding teachers who will levitate you and guide you through a safe creative journey to open your mind to the freedom that allows you to CREATE!" |
"I arrived at the Crow Timber Barn in hopes of turning off my corporate wired brain, truly desperate to access the creative "other" side of my brain. Greeted by a very charming family, surrounded by talented artists, tantalized by extraordinary meals, and truly mesmerized by the master levels of teaching, I was swept into a safe place to search, discover and allow myself to break down the concrete walls I had built in my head. I left the barn bursting with ideas and the ability to continue the creative journey. Fortunately, I now have the experience, notes and exercises to continue down the path of creative discovery with freedom and confidence. The Crow Timber Barn is a top notch creative environment with astounding teachers who will levitate you and guide you through a safe creative journey to open your mind to the freedom that allows you to CREATE! The workshop was the wisest investment in myself that I have ever made. Now I am counting the days until I get the privilege to return once again to this design haven!"
- Kaci Kyler
"I feel blessed as a teacher each time I return to the Timber Frame Barn. Nothing is better than the coming together of like-minded people from so diverse places, all ready to learn and be inspired in such a beautiful setting. The dyeing and surface design facilities at the Crow Barn are unsurpassed... Tables for wet work and dry work. Sinks, print tables that adjust their height, pinning walls – it's all there. We can work indoors and outdoors, in the early morning or after dinner as the spirit moves. And in such an atmosphere, the spirit does move!"
- Carol Soderlund
"I began taking classes in 2003 and knew immediately I had found a teacher in Nancy who spoke my language, the language of art. The instruction and overall atmosphere allowed me to rekindle the fire of creativity that had burned low. My experiences in those classes helped me rediscover and redefine my voice as an artist. In addition to the world-class instruction I have received 'at the barn', I have formed relationships with artists who have become close friends. I am already making plans and looking forward to returning for another wonderful experience."
- Terry Jarrard-Dimond
"I've spent 15 weeks at the Barn and they have changed my life! Nancy has sharpened my eye, made me focus, encouraged me to reach farther and never be satisfied with good-enough work. If you're serious about your art, if you're willing to work hard, if you welcome rigorous and honest critique, there is no better place in the world to learn."
- Kathleen Loomis
"The Barn is a stimulating environment in which to learn, stretch yourself, joyously create, and share with others. It nurtures and challenges you, wakening that creative spirit to dance in new ways."
- Connie Carrington
| | |
| --- | --- |
| | "Everything about the Crow Barn underlines the opportunity to step into a space where you can develop your work and take some time for yourself - so leave your laptop and cellphone at the hotel and take advantage of it!" |
"The Crow Timber Framed Barn is probably the best textile studio available outside of a university setting - and it beats some of those too. I've never taught or worked anywhere better, it's the model for my own on-going barn-to-studio conversion.
The setting is magical: an oasis of beauty and peace that's still within striking distance of retailers, shops and hotels. It's a joy to work in such a sensitively restored building, with light, air, space and all of the facilities one could wish for.
Not having to worry about food is heaven as the meal plan means the only thought you have to give to cooking is hearing the lunch/dinner gong! The ability to start early and work late is also a real bonus as it allows independent time to progress work - whether that be engaging in processes or sitting and contemplating.
Everything about the Crow Barn underlines the opportunity to step into a space where you can develop your work and take some time for yourself - so leave your laptop and cellphone at the hotel and take advantage of it!"
- Claire Benn